April 28, 2010 @ 12:53 pm
This is the weekend to end all weekend plant sales. There are two incredible plants sales in Seattle: the King County Master Gardener plant sale at the University of Washington and the Seattle Titlh edible plant sale in Wallingford.

We've volunteered at the Master Gardener plant sale in previous years, but will be out of town this weekend. The sale runs from 8 a.m. to 5 p.m., Saturday, May 1 and 10 a.m. to 3 p.m. Sunday, May 2. You'll find a wide selection of perennials, ornamentals, shrubs, trees, vines and edibles, including famous tomato starts, from Master Gardeners and local growers.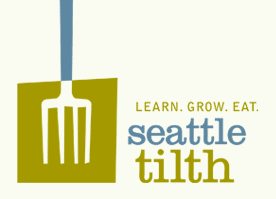 The second plant sale is one that vegetable gardeners can't miss. Seattle Tilth's annual plant sale is one of the best in town. You can choose from over 50 varieties of tomatoes and 20 different kinds of peppers. I always leave this sale with a handful of edibles, including rare pumpkin, eggplant, cucumber and other starts that you just can't find anywhere else.
Filed under Garden Calendar, Vegetable Gardening Permalink · No Comments »