Posted on June 1st, 2009 by Phuong
1. Pull weeds. Pull weeds. Pull more weeds.
2. Plant vegetable seeds for a harvest into fall and even winter. Replace plants that have bolted with summer crops such as peppers and tomatoes.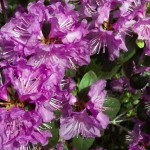 3. Make sure newly planted or transplanted trees and shrubs are getting enough water. Check plants that you've planted within the last few years. Give plants enough water to wet the root zone; water deep but less frequently. Make use of your rain barrels to help you conserve water while keeping your plants well-tended. Water container plants regularly, and fertilize them every four weeks or so.
4. Mow the lawn regularly, and don't allow the blades too grow too long.
5. Plants are actively growing during this month, so be sure to take the time to enjoy them. Peonies, irises, rockroses, and rhododendrons are going strong right now.
6. Put out your tomato plants if you haven't already done so. Be sure to prune the lower leaves to keep water from splashing on them. This prevents diseases and other problems.
Filed under:Garden Calendar | Permalink |
Leave a Comment