Posted on April 2nd, 2009 by Phuong
You wouldn't know it's April, given the snow and cold weather we've been having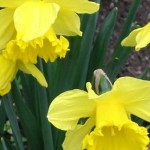 lately. Despite that, daffodils and forsythia are strutting their stuff, tulips are poking through the cold ground, cherry blossoms are in full bloom, and we just noticed some blooming trillium deep in the woods of Schmitz Park in West Seattle.
Now is a good time to walk around your yard and give your landscape a good once-over: What plants are going well and where? What plants should be moved so they thrive better? Could you add a paver patio or walkway to your landscape to make it easier for people to move through it, or add interest to your landscape?
Here's what else you can do in the garden this month:
1. Finish cleaning your garden by pulling weeds while they're still young.
2. Plant annual seeds of asters, cosmos, marigolds, zinnias.
3. Plant cool season crops such as peas, lettuce, radish, and broccoli through seeds or transplants.
4. Fertilize raspberries with ammonium sulfate to lower the soil pH, just as bud swell begins.

Apply about 3/4 to 1 pound of ammonium sulfate per 100 feet of row. Give blueberries a spring application of a balanced fertilizer such as 5-10-10.
5. April is Arbor Month so it's a good time to plant trees. The second Wednesday of the month, or April 8 this year, is the official Arbor Day in Washington state.
6. Plant strawberries, which you should be able to find bare-rooted in most nurseries this time of year. Give strawberries a sunny spot and good drainage and they'll produce for you for three to five years. Weed the bed, work in a good amount of compost or manure and about 4 pounds of 5-10-10 fertilizer per 100 square feet.
7. Shear winter flowering heather after it blooms.
8. Prune forsythia once it is done flowering.
Filed under:Garden Calendar, Seattle Landscape Maintenance, Seattle Lawn Care, Vegetable Gardening | Permalink |
Posted by Dilly

What would you recommend fertilizing huckleberry bushes with?

Posted by Andy

The beauty of native plants in the landscape- no fertilizer required! But if you want to pamper some newly planted huckleberries, spread a lawyer of mature compost around the base of the plant. Be sure to not smother the crown of the plant with the compost.
RSS feed for comments on this post · TrackBack URI
Leave a Comment