Posted on March 1st, 2009 by Phuong
February is  a tough month for gardeners in the Northwest. We have our share of sunny, blue-sky days, but rain, snow and perpetual dreariness can sometimes make getting out in the yard difficult. February is a good month to get started on some yard chores that will make the rest of the year easier, especially weed pulling.
Here are 8 things you can do in your yard this month.
1. Pull winter weeds. The Ecoyards motto is to pull weeds early and pull them often. That seems to be the only way to keep on top of weeds if you want to take a natural approach to weed control. In February most weeds are babies, so they are much easier to pull.
2. Mulch landscape areas where soil has become bare.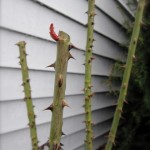 3. Inspect trees and shrubs for damage after storms.
4. Prune evergreen and deciduous shrubs.
5. Cut back or rake out ornamental grasses.
6. Cut back dead fronds on sword ferns.
7. Prune roses when buds appear.
8. Time to conduct major cut back on hedges.
Filed under:Garden Calendar, Seattle Landscape Maintenance | Permalink |
Leave a Comment