Posted on March 1st, 2009 by Phuong
There's an old saying in the Northwest that says you should  plant peas by President's Day. But if you haven't gotten around to it, March is a great time to do it. (April is fine, too, but by then try to plant virus-resistant varieties. Peas grown in warmer weather are susceptible to pea enation, a virus transmitted by aphids that appear once the weather warms up).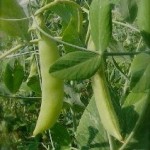 Peas are a cool season crop that, for me, signals the start of the active vegetable gardening season. They thrive in the Northwest — provided they get sun and are planted in well-drained soil.
Sugar snap peas are a given in my garden. I like "Cascadia" snap peas, an enation-resistant variety developed at Oregon State University.  (Read more here). The peas grow on short vines and produce thick, juicy, sweet pods. "Sugar Snap" is another favorite variety of mine, but since they grow 6 feet tall, they need a strong trellis system. The pods are especially sweet and taste great plucked right off the vine. (Territorial Seed Co. in sells both varieties, and their packets can be found at most Northwest nurseries.
Read more about growing your own peas and beans here.
Filed under:Garden Calendar, Vegetable Gardening | Permalink |
Leave a Comment