Posted on February 21st, 2013 by Andy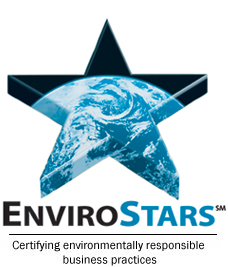 Ecoyards is pleased to announce we recently achieved the highest five-star rating from the EnviroStars program, which certifies businesses with environmentally responsible practices.
Certified businesses have demonstrated a commitment to protecting the environment by properly managing and reducing hazardous materials and waste and other practices. The EnviroStars program was created by King County in 1995, and seeks to create healthier communities and protect natural resources by keeping hazardous and other unwanted waste out of the environment.
What does the EnviroStar rating mean for customers like you? It's just one more reassurance that Ecoyards is committed to reducing our overall environmental impact and that we are being proactive in minimizing our footprint. To get a five-star rating, we have to show environment-related leadership in our industry or community, have a solid waste reduction program and implement measures to save energy, protect air and water quality and incorporate an multitude of "greener" business practices.
An EnviroStars staff completes a site inspection, reviews our practices and decides whether we qualify. As the program notes:
companies receive a rating from 2- to 5-Stars; the higher the rating, the more thoroughly environment-friendly practices are built into the company's policies and operations. To improve the star rating, a company has to become more proactive in reducing wastes and the use of hazardous materials. Five-stars demonstrate leadership on environmental issues beyond their own facilities – within their industry, organization and/or community.
Filed under:Seattle Landscape Maintenance | Permalink |
Leave a Comment