Posted on March 11th, 2012 by Andy
Here are some of our favorite tools of the trade at Ecoyards: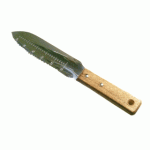 1. Japanese hori-hori digging knife (left). This stainless steel knife is an indispensable tool for any gardener. At about $30, it's pricier than your standard trowel, but it serves so many purposes that it's worth it the money. The serrated teeth on one side is great for slicing tough roots, slicing off spent perennials, prying weeds and digging through compacted soil. The wooden handle is sturdy, and fits perfectly in your hand. It also comes with a black sheath that can attach to a belt. We buy ours in West Seattle at the True Value Hardware store. They are also available online.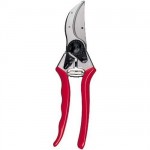 2. Felco #2 Pruners. $45 (right). This is hands-down the best pair of pruners you can have. This bypass pruner is one of the most recommended among gardeners for its strength, versatility and comfort. Any good hardware store or garden store will stock these pruners and replacement parts.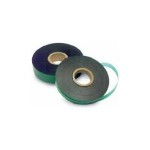 3.  Plant tape, about $1-$2 for a 150-foot roll (left). There are a lot of choice out there when it comes to tying plants, including twine, plant tape/ribbon, wire, or velcro. We prefer plant tape because it's cheap, has many uses and is stretchy, so it doesn't girdle a tree – unlike wire or twine. We like them for tying vines to trellises, staking tomato plants, mending branches, and supporting weak branches.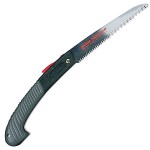 4.  Folding pruning saw, between $10-$25. This handy fine-tooth pruning saw folds up and fits in your back pocket for easy access. It works great for light and medium pruning jobs. Get one with an ergonomic fit, and rubberized handle for better grip and comfort.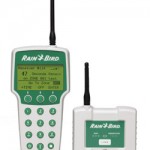 5. Landscape irrigation and remote, about $300. Ok – this is mostly for professionals only, but let us geek out for a moment and suggest this high-tech gizmo as a must-have for those who spend a lot of time fine tuning irrigation systems. The price, alone, sets it apart from the other items on this list, but it's no less essential for the serious gardener. This Rainbird remote lets you turn on your sprinkler system from anywhere in your yard; when you need to adjust your sprinkler in one corner of your yard, you can use this remote control to do it rather than having to walk back to the central controller.
Filed under:Seattle Landscape Maintenance | Permalink |
Leave a Comment