Posted on April 5th, 2010 by Phuong
Potatoes are one of the easiest plants to grow in the Northwest. Home-grown potatoes also taste so much better than what you buy at the grocery store. You can plant potatoes as early as March (to harvest in the summer and early fall) and typically as late as June (for harvest in late fall). You should be able find seed potatoes at most nurseries, or you can order them through Territorial Seed Co. I've had good success with Russian banana fingerlings, blue potatoes, French fingerlings and Yukon gold. I like seed potatoes that are small and can be planted whole; but cutting larger seed potatoes is just as easy (if you do cut, make sure each piece has at least one eye).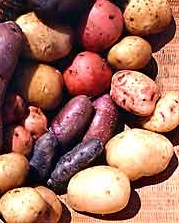 Plant potatoes in well-drained soil in a sunny spot in your garden. Avoid planting them in the same spot from year to year to prevent soil-borne diseases. Also try not to plant them in areas where you had planted tomatoes, strawberries or legumes such as peas and beans. When you're ready to get your potatoes into the ground, dig the soil well. Dig a deep trench and mound the soil on either side. Put the potatoes in cut-size down (if you've cut the seed potatoes into pieces). Cover the potatoes with about four inches of soil.
Once your potato plant has emerged about six inches tall, hill soil up around the plants using the soil on the sides of the trench that you dug. Potatoes grow along the stem of the plant. To avoid sunburn (which greens your potatoes and makes them bitter) as well as maximize your yield, keep hilling the plant as it grows taller. Mound the soil up around the plant every two or three weeks. The higher the mound, the more potatoes you'll likely have. Hilling also helps suppress weeds. To avoid potato scab or cracks or knobs, keep the soil moist and evenly watered throughout the growing season.
Harvest new potatoes when the plant begins to flower. Otherwise, dig up the potatoes about two weeks after the vines die. There's nothing better than digging your hand into the ground in search of these little treasures.
Filed under:Seattle Landscape Maintenance | Permalink |
Posted by Lisa Stiffler

Phuong — I have some potato starts to give you — I'll bring them Tuesday night. They're blue something or others!
RSS feed for comments on this post · TrackBack URI
Leave a Comment