Posted on February 6th, 2013 by Andy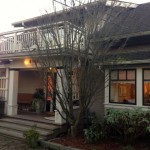 Here was the dilemma: one of our clients had a gorgeous Lions Head Japanese maple that had grown too big for its location. It was already 7 feet tall when the homeowner planted it on his property 12 years ago, so you can imagine how much it had grown since.
Our client was looking to move the maple because it was planted too close to the house; its roots were likely to get tangled in underground gas lines and the top branches would soon interfere with overhead cable lines. He also had a personal attachment to the tree, so wanted to find a way to preserve it if possible. And what's not to love about it: this deciduous tree has beautiful green foliage that turns red in spring and a spectacular gold in the fall. It can grow to about 20 feet tall at maturity with a spread of about 15 feet.
The problem: the roots of the Lions Head Japanese Maple were so close to gas lines that we couldn't dig it out without striking those lines and causing all kinds of mayhem.
The solution: we hired an arborist who used "an air knife" to safely excavate soil from the maple's tree roots without having to hack away with a pick or shovel and otherwise damaging the roots.
The air knife uses compressed air (not unlike air tire pumps you find at gas stations) at about 185 psi rating. The pressure from the air knife removes soil away by focusing a stream of air around the roots. Apparently, this technology has been used by the military to excavate land mines.
The process of air-excavating the tree from its original location was tedious. It took hours to gently remove the soil away from the root ball. Once we had freed the soil from the root ball, we brought in a crane to raise the plant and moved it into a truck where we then transplanted it into its new location.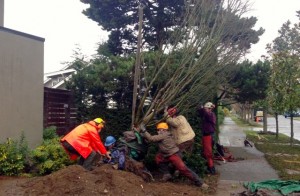 Crew places Lions Head Japanese Maple in its new location.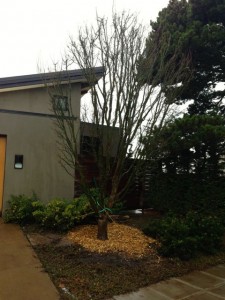 Happy tree in its new location. This maple, Acer palmatum "Shishigashira", loves full sun to partial shade, and is relatively low maintenance. It can live to be about 80 years old!
Contact Ecoyards if you ever need help solving a tricky landscaping situation.
Filed under:Seattle Landscape Maintenance | Permalink |
Leave a Comment