Posted on May 12th, 2009 by Phuong
One of our neighbors recently got slapped on the wrist from the city of Seattle for putting in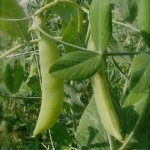 some raised vegetables beds in her parking strip without first paying for a $225 permit. She had gotten rid of grass that filled her planting strip — that no-man's land between the street and the sidewalk — and was getting ready to put in raised beds, when she had to take it down.
Well, there's good news today for well-intentioned urban farmers who want to make use of their planting strips to grow edibles. Seattle Mayor Greg Nickels announced that homeowners who want to make use of the strip won't have to pay the $225 permit fee that had previously been required for pavers, hardscapes or planting boxes. You still need to get a permit, but those are free and can be obtained online from the Seattle Department of Transportation.
"This change makes it easier to plant flowers and vegetables in the strip between the sidewalk and the street. For many gardeners, that's prime space," said Nickels. "It's one of the things that makes Seattle special, and, with planting season upon us, it's time to get those green thumbs going."
Check out the SDOT web site for more information, including tips on how to make improvements to your parking strip. Read more from Jennifer Langston, a former P-I reporter, who wrote about urban farming in Seattle.
Filed under:Vegetable Gardening | Permalink |
Posted by M. D. Vaden of Oregon

At least in Beaverton – here – seems safe to plant the curbside bed provided that any required street trees are left intact.

Our strip happens to be free from requirement for trees – but I planted intermittent variegated boxwood. But one end has room where a raised bed might be a nice addition for edibles.

Hopefully gardening gets some legs in the next few years.

MDV
Oregon
RSS feed for comments on this post · TrackBack URI
Leave a Comment