Posted on March 7th, 2009 by Phuong
You've seen these topped trees in your neighborhood: trees that branch out into the sky, only to be unceremoniously hacked across the top, a headless shell of its former shelf. Or trees with absolutely no leaves or no branches, or ones whose amputated branches are replaced with a broomstick mess of sprouts. Not only is topping trees ugly, it can also greatly reduce tree life and health.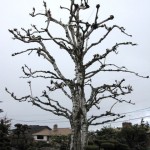 Plant Amnesty, a non-profit based in Seattle, has worked tirelessly to inform the public about the pitfalls of topping trees. It's ugly. It's expensive (you have to keep it up). And it could be dangerous. If you aren't convinced, check out Plant Amnesty's photo gallery, a pruning horror show. The captions are hilarious, including our favorite: "put your hands up," for a tree that looks like it's surrendering.
Most people top trees or shrubs to keep them small. Some hack trees for views . Others do it because the tree or shrub has overgrown its spot. But there are plenty of alternatives to topping.
The best method is to avoid topping in the first place by planting a tree that won't outgrow its location. (Right plant, right spot). Heed the mature height of trees when you plant, give it room to grow, away from a house or utility wires. If the tree is going to grow 20′ tall, don't assume that you'll keep it smaller than that. If you need some suggestions, the City of Seattle maintains a list of small and medium trees that are appropriate to plant along streets and in street parking strips (and won't interfere with utility lines and poles).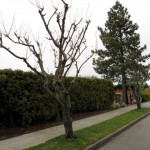 Other alternative to topping is to selectively prune the tree to achieve what you're looking for, whether to limb it up to keep it away from a utility line or other pruning methods that allow the tree to grow in different directions.  In some cases, the best course of action may be to remove the tree entirely rather than subject it to a slow death by topping or excessive pruning. In either case, it's best to consult with a certified tree arborist. PlantAmnesty's referral service coordinator can give you a recommendation if you call 206-783-9813 and leave your name, city or town, phone numbers and email address.
If you want to know more about proper pruning, PlantAmnesty is holding its first ever Festival of Trees, a day of workshops, seminars and more Sunday, May 10, 2009, 1 p.m. to 4 p.m. at Sand Point Magnuson Park, 7400 Sandpoint Way NE, Seattle.
Filed under:Seattle Landscape Maintenance | Permalink |
Leave a Comment