Posted on August 8th, 2012 by Phuong
The Ecoyards grandparents were in town recently from Michigan, so we decided to take them for a visit to The Bloedel Reserve on Bainbridge Island. There are a lot of wonderful gardens in the Puget Sound area, but this is an impressive 150 acres of beautifully, meticulously landscaped grounds. There's also a lot of see, so give yourself several hours to wander around and explore the Japanese garden, the moss garden, the French country-style estate home and the reflection pool.
Our toddler had a blast, touching moss-covered rocks, running along wooded paths, checking out the waterfalls and trying to find ducks and geese in the pond. We were impressed by the magnificent and massive rhododendrons that were in bloom, by the woodlands filled with native Northwest plants such as oxalis, viburnum and western azaleas.
Here are a few photos we took on our tour: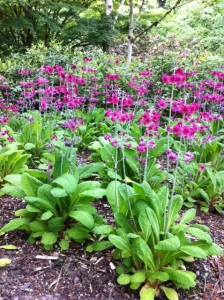 Filed under:Seattle Landscape Maintenance | Permalink |
Leave a Comment