Posted on April 16th, 2009 by Phuong
One of our favorite plants, the flowering currant, is currently in bloom this month, and we've been watching bees and hummingbirds swarm to its flowers. The currant is just one of many plants that attract bees, which do the heavy lifting by pollinating fruit trees, squash and other plants.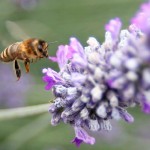 Many of you have already heard of the mysterious Colony Collapse Disorder that has wiped out thousands of bee hives throughout the region over the past several years. In Washington state, the loss of the bees have fruit tree growers particularly worried since they're dependent on bees to pollinate their apple, pears and other trees. You can read more about Colony Collapse Disorder here.
You can do your own part to encourage bees to come to your garden. Create a landscape that encourages honeybees by growing flowering plants with plenty of nectar and pollen. Bees feed on the nectar for energy, and collect pollen to feed their young.  Some of our favorites bee-loving plants include lavender (pictured above), salvia, penstemon, black-eyed Susan, sunflowers, thyme, mint, purple coneflower, and rosemary. Herbs that attract bees and do double-duty in the kitchen include: basil, oregano, mint and sage. Bees like annuals, too, including zinnia, marigold, sunflowers and poppies. Other plants that attract bees (and that we often use in Seattle landscaping projects) include: flowering currant, verbena, barberry, lilac, and sedum.
Try to keep the bees interested throughout the season by planting flowers that provide nectar and pollen year-round. Landscapes that have a variety of plants, particularly native ones, will encourage more bees.
Filed under:Seattle Landscape Design, Seattle Landscape Maintenance | Permalink |
Leave a Comment