Retaining Walls
In a city like Seattle where there are many hills and steep slopes, retaining walls are common part of many landscapes. Retaining walls are used to level or retain slopes and soil. They can help create more usable landscape space and give added character and texture to your landscape. Retaining walls can also be used to stabilize your property's landscape, adding to its overall value. Here are photos of retaining walls and rockeries built by Ecoyards.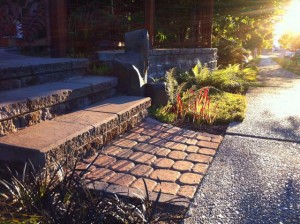 Retaining walls can be built using wood, concrete, rocks, and manufactured concrete retaining wall blocks. They can also be built using different techniques.
Retaining Wall Blocks
Retaining walls that are built using interlocking concrete retaining wall blocks, often called segmental retaining wall blocks, require no mortar. These wall systems are most appropriate for walls that are up to four feet tall. Segmental blocks come in a variety of styles, shapes, and colors (grey, reddish, rustic and so on). You can choose from modern flat face blocks (for a straight, smooth face), traditional radius face blocks (that have a slightly curved, convex shape) or rustic tumbled blocks (for a more rugged look, as pictured right). Customers can choose what best suits their taste and complements their landscape. These walls are generally built on a compacted base of crushed gravel. Drainage features are commonly installed behind the walls.
Boulder Walls and Dry-Stack Walls
Boulder retaining walls are typically built using natural stone of various types, shapes, and colors. Basalt and granite boulders are the most common boulders used in Seattle area landscapes.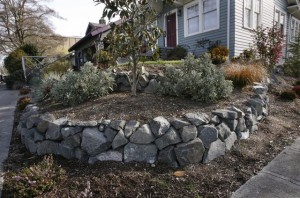 Boulder walls are generally kept to less than 4 feet tall with taller walls requiring larger boulders. These walls can be built with or without mortar depending on the application and desired look for the wall.
Dry stack walls are built using natural stone without mortar or concrete. The stones are carefully selected and sometimes chiseled into place to create an interlocking wall that supports itself. Dry stack walls are built using flat ledge-stones, flagstones, and fieldstones. Because these walls are built with no mortar, they are free to shift with movements in the underlying soil making them more resistant to damage from earthquakes and soil compaction. Dry stack walls are durable, low maintenance, and easy to repair if needed.
Wood Retaining Walls
A well-built wood wall can last over 20 years with ground-contract treated lumber. These walls are commonly built using 6×6 timbers stacked horizontally or 6×6 vertical posts with 2-inch wall boards. Anchor braces, referred to as "deadmen," are connected to the wall and dug into the backside hill to provide support for taller walls. Wood walls are easier than boulder walls to construct in areas with difficult access for heavy equipment.
Please use our Contact Form to setup a consultation. We'll evaluate your property and review your preferences to determine the best type of retaining wall for your project.
For more information and tips on retaining walls, be sure to read through our blog post category for Seattle hardscaping.