March 15, 2010 @ 7:44 pm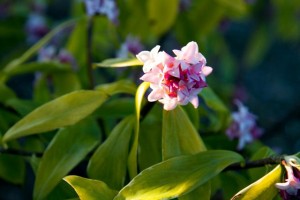 I was wandering through the gardens at the Ballard Locks the other week when I caught a whiff of one of the most distinctive fragrances of winter. It smelled exotic and sweet. It was the daphne odora (pictured left), an evergreen shrub that produces tiny pink-purple flowers from February to April. It has lovely green foliage and does well in the Northwest. Daphnes are one of many must-have plants if you're interested in creating a fragrant garden.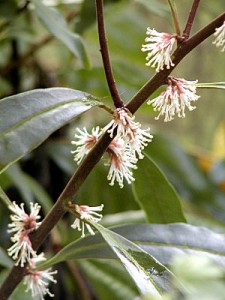 We at Ecoyards try to design Seattle landscapes with fragrance in mind. We often place a few of these plants near the entrance of homes and walkways so that homeowners are sure to get a whiff of the fragrance. Sarcococca ruscifolia, an evergreen shrub (pictured right), is another one of our favorites. It's sometimes called vanilla plant, or sweet box, because its tiny aromatic white flowers that blooms in winter. This drought-tolerant plant grows well in the shade and is a good addition to any fragrant garden. Other good choices for winter fragrance include witch hazel, and evergreen clematis.
If you're interested in seeing and smelling more fragrant plants, head to the Ethel L. Dupar Fragrant Garden in South Seattle. A project of the Seattle Lighthouse for the Blind, the garden features over 50 plants with fragrant foliage and flowers including hyacinths, gardenias, scented goldenrod, azara, rosemary, lavender and a variety of herbs. Walking through the garden, you'll take in a wide variety of scents, including peanut butter, lemon, curry, floral, orange blooms. The garden in accessible to people of all disabilities, including those in wheelchairs. The Lighthouse offers about four tours a months, including one on Tuesday, March 16 and Wednesday, March 17, but you have to call or email to RSVP. Click here for more information on how to schedule a tour or find out the tour schedule for 2010.
Filed under Seattle Landscape Design Permalink · No Comments »