Posted on June 5th, 2009 by Phuong
One of the most common questions we get from clients is how to get rid of weeds without using pesticides. If only there was a magic wand that allows you to sweep it over weeds and make them disappear. Too bad there's not. But there are many ways to keep up with weeding so it doesn't take the joy out of gardening.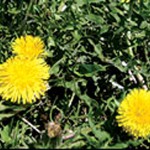 1. Hand pull weeds when they're young and don't allow them to go to seed. Pull them in the winter and spring time and keep at them throughout the summer.
2. Where possible, mulch your landscape beds to keep weeds down. A thick layer of bark mulch, applied once a year, will work miracles.
3. Build good soil underneath lawns to help crowd out weeds. If you spend time properly establishing your lawn, the grass will grow thickly and help prevent seeds from germinating. Weeds, however, are inevitable, but you can prevent many of them in your lawn by properly watering your lawn, mowing it frequently (and high) and keeping it fertilized. Avoid weed and feed products that simply broadcast herbicides over the entire lawn. It's overkill. Rather than directly targeting a specific weed, it "sprays" the entire lawn with the stuff. All of this washes into our drains and into the Puget Sound. If you hand-pull large weeds, be sure to fill in the gaps with a mixture of compost and grass seed. This prevents weeds from filling in the space.
4. Use cover crops (crimson clover is one of our favorites) to fill empty spaces during the winter where you're not growing anything. Cover crops, also called green manure, build healthy soil.
5. Fertilize and water plants directly and avoid areas where you're not growing plants.
Filed under:Seattle Landscape Maintenance, Seattle Lawn Care | Permalink |
Posted by Lucy

Hi! I enjoy reading your blog posts – I'm new to the pacific northwest and lawn and yard maintenance considerations. The home we bought came with a resident mole (grrrr!). That's a whole 'nother blog post from you I look forward to! In this post though, you say "Build good soil underneath lawns to help crowd out weeds". How do you build soil under the lawn? I remember living in Austin we'd aerate and then top dress with something called Dillo Dirt. How do Seattle-ites do it? Thanks!

Posted by Andy

Hi Lucy,

Here's a link to our blog post on moles – http://www.ecoyards.com/how-do-i-get-rid-of-moles/

The best way to build healthy soil under a lawn is to aerate and then top dress with mature compost. There are many good suppliers of compost here in Seattle – Ceder Grove, Sawdust Supply, and Pacific Topsoils.

Posted by Sue

Wow Nice way to control the growth of weeds. Thanks for the information
RSS feed for comments on this post · TrackBack URI
Leave a Comment